Starry Night (my own impression) By Gina Miller
I made each part of the animation completely by computer and the animation itself includes each layer of change so that you can witness the development with your very own eyes. A unique vantage point that takes you inside the mind of the artist, or in this case, artists.
All the parts of this animation were created with painstaking precision (and to scale) with the original Van Gogh's painting as a guideline using a combination of 2d and 3d computer programs. The houses were created by using a three dimensional modeling and animation program, while the mountains, bushes, stars, lights and tiny little brush strokes on the roofs were all hand painted using a 2D editing program. All of the many parts were then put together like a giant puzzle in an editing program and made into a movie. In this animation you are offered two ways of looking at the work. In the first half you will be going in sequential time, in the order that it was created, in the second half it will be played backwards with Van Gogh's original appearing underneath. So, when you see the first credits (which is in the middle of the animation), it's not over, it is just a sign that we will be going backwards!
While creating this animation there was some difficulty trying to find out what all the objects in the painting were, in some cases it wasn't clear, is that a roof or a bush? There was a lot of studying the painting, in fact I took my own print down from the wall and brought it into my office to assist me. In making every part of the painting from scratch, I really feel like I know it intimately, where every house is, every bush, almost as if it is now a physical place in my memory. I've put the painting back on the wall, and when I look at it now, I feel like I've truly been there. As a child I read about Van Gogh in books at the local library and the impressionism brushstrokes seemed to be creating a motion effect, quite a fitting project for a future animator. This work is an homage to Van Gogh and all the hardworking passionate artists in the world, past, present and future.
The original Starry Night was made June of 1889, the same month that I have made my version. The Starry Night painting has been in the Museum of Modern Art in New York City since 1941. In today's world of computers and rapidly emerging technologies, art used in one artist's media can now be transported into the future with another media. Could Van Gogh have conceived this second life his painting would reincarnate? Turn up your Volume. Music: Waltz of the Flowers by Tchaikovsky. For more information or requests please email.
And please, read more about and comment on these animations at my blog here. I love hearing what you think!
To watch the larger version (800 X 639 screen size):
Click here to download the movie (Quicktime 16.48 MB) or click here to download (Windows Media Video 18.73 MB).
To watch the smaller version (600 X 479 screen size):
Click here to download the movie (Quicktime 7.89 MB) or click here to download (Windows Media Video 9.17 MB).
If there is no way you can download or don't want to wait (it will load immediately although it will be of lesser size and quality), click here see it at YouTube.
Tips for downloading internet movies: If you see only white, this is normal it means it's still downloading (even though you will see "done" in the lower corner of your screen, hang in there!) Also ~ if when you download the movie it appears "sticky" and/or the music breaks up, your movie is still buffering, play it a second time and it will have downloaded fully and play correctly.
Below: a still from the animation—the starry night I made. (Click here or on the picture to see the hi res version.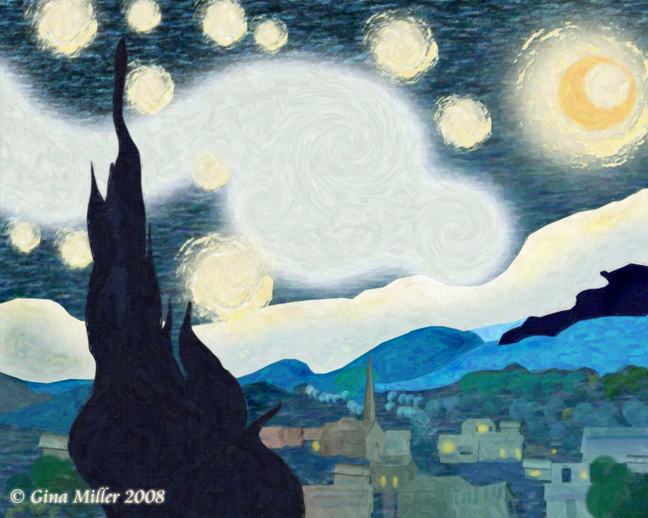 The quote around the end credits: "For my part I know nothing with any certainty, but the sight of the stars makes me dream." —Vincent Van Gogh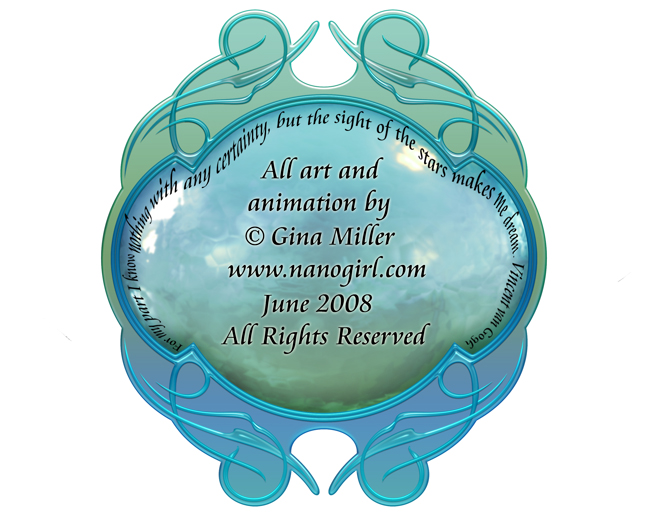 Below starry night - Vincent Van Gogh 1853-1890 Dutch. Oil on Canvas, painted June 1889: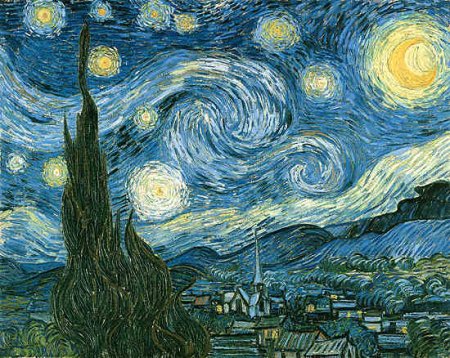 Programs used to make this animation: 3DS Max, Combustion and Photoshop.
- This animation was a Youtube feature on 1/28/09!
- This animation was featured at the Computer Arts magazine blog "Van Gogh animation - CA Projects - Julia - 03 Jul 2008 2:18pm
Ever wondered how your designs might be reincarnated 100 or so years down the line? Van Gogh probably didn't either – nevertheless, for a unique interpretation of his Starry Night, check out artist and animator Ging "Nanogirl" Miller's "work in progress animation". Painstakingly produced using a combination of 2D and 3D computer programs, the animation offers two new ways of looking at the painting: the first half is sequential, played in the order it was created; the second runs backwards. Definitely worth a view. "
- Read coverage of this animation and more at the informative and endlessly interesting Dali House art blog.
Created June 22-30, 2008. uploaded to the website on June 30, 2008.
Copyright Gina Miller 1998-2008
If you are interested in using this artwork, contact the artist.