Dermal Display By Gina Miller
In his book Nanomedicine, Volume I: Basic Capabilities [available on the web at http://www.nanomedicine.com/NMI.htm ], Robert A. Freitas Jr. describes [in section 7.4.6.7 (page 204)] a "programmable dermal display" in which a population of about 3 billion display pixel robots would be permanently implanted a fraction of a mm under the surface of the skin, covering a rectangle 6 cm x 5 cm on the back of the hand. Photons emitted by these pixel bots would produce an image on the surface of the skin. This pixelbot array could be programmed to form any of many thousands of displays. Each display would be capable of two functions: (1) presenting to the user data received from the large population of medical bots that roam the user's body; (2) conveying instructions from the user to that same large population of bots. The display could be activated or deactivated by finger tapping on the skin. This 3-minute animation illustrates the motions and live interaction of these display screens.
I began this project in March and it has been both the most challenging and the most educational of the animations that I have done so far. Since the functions illustrated on the display represent actual data that could be obtained in real time from a human body equipped with the dermal display screen each moment of this animation had specific guidelines for timing and movement directed to me from the author. I am very grateful to have had this experience in which I have learned so much and I hope that this animation helps to visualize what Robert A. Freitas Jr. theorizes in his wonderful books on the subject.
To see the movie click here (.mov 8.61Mb opens using Quicktime). Alternately you click here to view the movie (.wmv 10.14Mb opens using Windows Media Player).
Watch Dermal Display animation narrated by the author Robert A. Freitas Jr. while giving a presentation at the 6th Alcor conference (added 9/1/07).
Downloads require some patience, depending on what type of connection you have. These movies have been compressed from their original quality for online downloading; due to this you may see lower resolution artifacts.
Note to the media (and website readers who wish to use images): Permission is required for print or other use of this image, click here to send an email request.
Click here for a high resolution version of the image below.
Below: stills from the movie.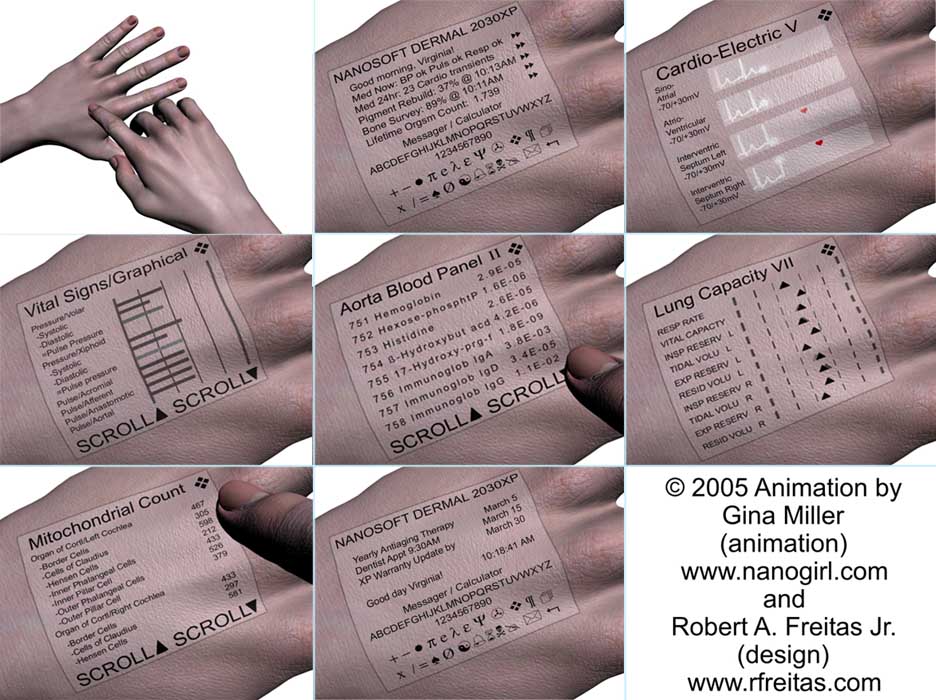 Deepest appreciation to:
James Lewis PhD for your assistance with crunching the numbers.
Jude Ng for those late night Combustion emergencies.
And of course Robert A. Freitas Jr. for this opportunity.
© Copyright Gina Miller and Robert A. Freitas Jr. all rights reserved.
Dates of creation: March through September 2005
Added to the web site on 9.22.05
Dermal Display topic on my animation blog.
Dermal Display Media Coverage:
Television - History channel August 21rst 2008, Thursday night 10PM 9C - the show is called The Works (Tattoos episode).
DVD now available.
Aired on Japanese television (Nov 2008), click here to watch the clip.
Movie
Featured in the The Immortality Institute Film Project. Click here to see the trailer.
Also featured in another film on the same topic, a documentary called Immortality produced by Kaléo Films. Aired in France 2008 click here to watch a clip of this documentary!

Featured at the 6th and 7th Alcor conference which are both now on DVD.
Paper publications
Cryonics magazine has done a feature of me and my work on this animation in thier Winter 2006 edition.
Fast Company the next up and coming issue Jan/Feb 2005.
PC Magazine - Issue, November 22, 2005, page 22 "Hand me my Data".
Popular Science this doesn't cover the animation but does interview Robert A. Freitas Jr. about his concept.
Tecknikart magazine
Corriere del Ticino featured a story and the image from this very website on page two (Sept 2006).
Online
The "Cité des sciences" museum in Paris, France Nanotechnology exhibit.
Center for Responsible Nanotechnology
Nanodot
Ohmynews.com
Standing on the Shoulder of Nanobots article by Ken Sutherland.
Mention on KurzweilAI regarding the LifeBoat foundation awards.
Nanotech.biz interview with Robert A. Freitas Jr.
Nanotech bis interview part 2 (bottom covers the animation).
Discovery Channel scroll down to see the whole article.
National Nanotechnology Initiative (news) reports the Discovery article above.
engadget with comments.
KurzweilAI.net
medGadget
Digg with comments.
AZoNano>
Nanotechnology Now
NanoVIP
Yahoo
Nanonews Russia.
Views From the Edge> with comments.
Linkfilter
Tetsuo Italy.
Ployer
Mobile Read
Topix.net
Toms Hardware Guide
World Changing with comment.
HSA Insider
NetEconomie
4M 9/30/05 at slot 06:41.
Veneto Nanotech Italy.
Philly Spot
Newszoom
Blueyonder Skin Deep article UK.
Blog Bonanza:
Science Snacks
Our Technological Future
Make you go hmm
Revolutionary Paradigm
Disco Stu with comments.
TeamDroid
Freds House
Modblog
Philosophy, Computers, and Bad Writing
Posthuman Blues
Kooltech
The world through the eyes of a lafingputz
Spaghetti Tech
Aeronaut
The Quantum Pontiff
Sayleblog with comments.
Vasanth Dharmaraj
De:Bug Germany - with comments.
KGPB
Twinsplynn
The Stoa Consortium
Satmandu
DocFiles
News Hack
Newlogic Innovation
Tecnocino Italy - with comments.
Joeshamo
Stang Runner
Do I contradict myself?
Kiltotter
Future Feeder
Techpoetic
Technopology
Off the Wall
lancerlord
Wolf's Tech
near future
Thatchspace
Geekology
the_futures-lab
El Rincon del b4RuCh1N
Sony Ericsson
George Miller
Geek Coefficient
The Life of Steven Marshall
brads blog
shane castile
TopoLog
bugresort
Hassenpfeffer
Dailygrail
Bruce's Blog
Palm Space Japan.
Tom-Style Japan.
Homo Ludens
Happy Ants blog China.
Redtv
Old Cola
Techne Sweden.
Gregplace
live in the near future
efield
Apes Science and Quagmires
Banklocator
Wayhow
troyworks
Occult Design with comments.
WiFi-Art.com
Miss TICs France with comments.
Frederic Cavazza France with comments.
Life, the universe and everything in it.
Email Lists
Fringeworthy
Cryonet
SETI bioastro
sci.nanotech
Other
GameBrink with comments.
Systemshock with comments.
Needled
StumbleUpon
University of Birmingham
Ueba Brazil.
bemovil
Nikkei Nano Japan.
Kaksoisagentti
Kung Foo
D-paty
Trends
Abovetopsecret
acces enregistre
LD50 Hungary.
pdaology
FreeGameCam
schattendrachen
Warrenellis
Could
Ufopub France.
InternetActu France.
information aesthetics
Fanatics Japan.
Imagination Island
Furl

Copyright Gina Miller 1998-2009
If you are interested in using this artwork, contact the artist.